by : (www.contrado.co.uk)
Awards season is in full swing, and those stunning evening gowns are adorning the red carpet.
Even if you haven't got an invite to the Oscars, your wardrobe could always do with a beautiful red carpet worthy gown…you know…for those extra special occasions.
If you love sewing, and creating your own clothes, then why not make your own evening dress? Forget spending a fortune on dresses inspired by what celebrities wear, with a little bit of know-how and with the right pattern, you can make your own evening gown yourself.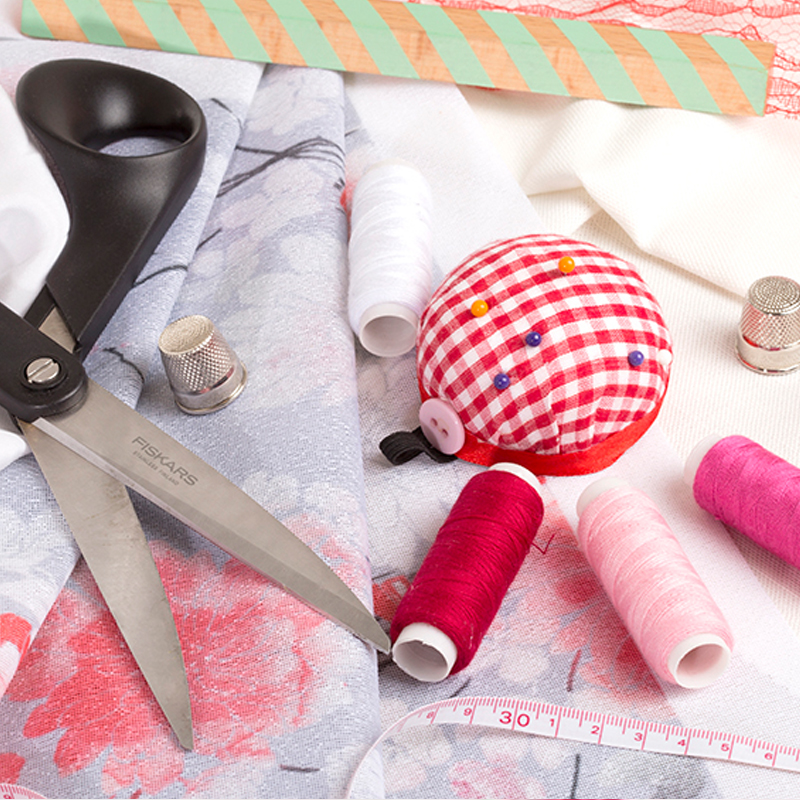 Why make your own dress?
Sometimes, we can find our dream dress, but there is something missing. Maybe the price point is too high, maybe the fit isn't just right, maybe the print isn't in the most flattering colours for your skin tone, or maybe the fabric doesn't float your boat. The perfect dress starts with the perfect fabric, and when you make your own dress, you can choose exactly what fabric is best for you.
When it comes to evening gowns, think dreamy, elegant, ethereal, almost goddess like fabrics. Silk, satin, lace, organza, chiffon, these fabrics have been used to make show-stopping evening dresses for years, and with their natural beauty, elegant drapes, and exquisite femininity, it's no wonder why.
Best fabrics for making evening dresses
To help you with your mission to create your perfect red carpet dress, we have selected the 7 best fabrics to assist you in your mission. If you are confused by all of the different fabrics available, and are unsure of what the difference is between organza and chiffon, or Georgette and tulle, then we are here to help.
Different fabrics suit different silhouettes and cuts. Remember to consider your fabric very carefully, to ensure that it is the right one for your perfect dress.
1. Velvet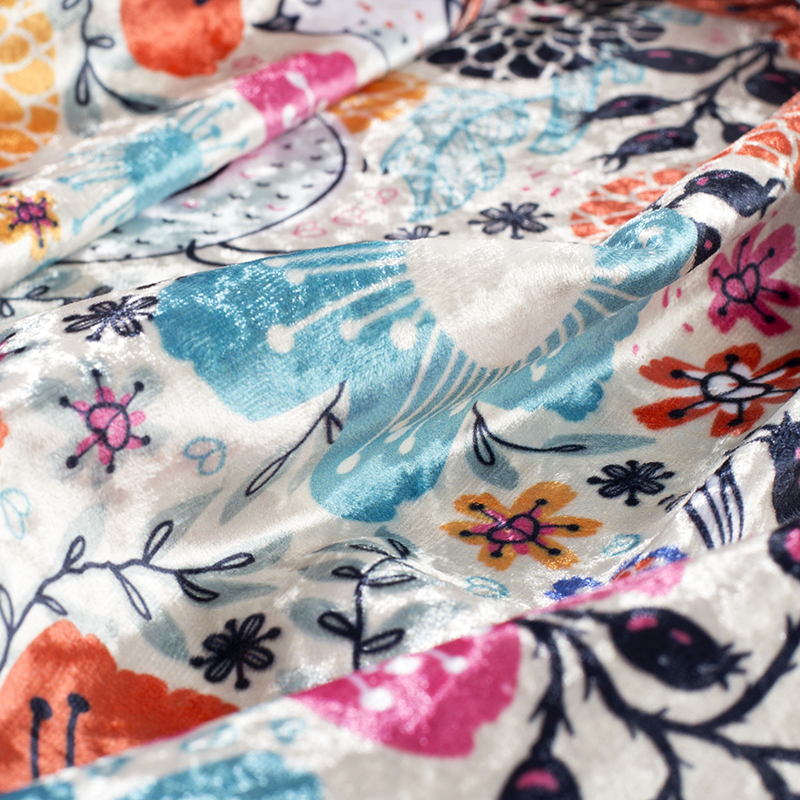 Marbled Velvet
Velvet is a gorgeous choice for a red carpet worthy gown. The shine, the depth, the richness, the drama, all make this fabric perfect for a sexy, vampy, feminine dress. Some qualities we love about velvet include:
A strong and beautiful sheen
A soft and elegant drape
A shimmering surface
Very soft and textured to the touch
Strong and durable
Smooth and touchable
Velvet can be woven from silk or synthetic fibres. It has a short, dense pile and is most traditionally used for formal or evening wear, but the fashion industry has fallen in love with this rich fabric, and velvet fabric and clothing is becoming more and more popular.
Our choice – Marbled Velvet
Marbled Velvet is a contemporary take on a classic. This stylish and opulent fabric is soft and luxurious and has a unique pile, which goes in all directions. This creates a "marbled" effect, and allows the fabric to shift and change colours, depending on the light. If you are looking for a velvet with a difference, then try using Marbled Velvet to make your evening dress.
2. Chiffon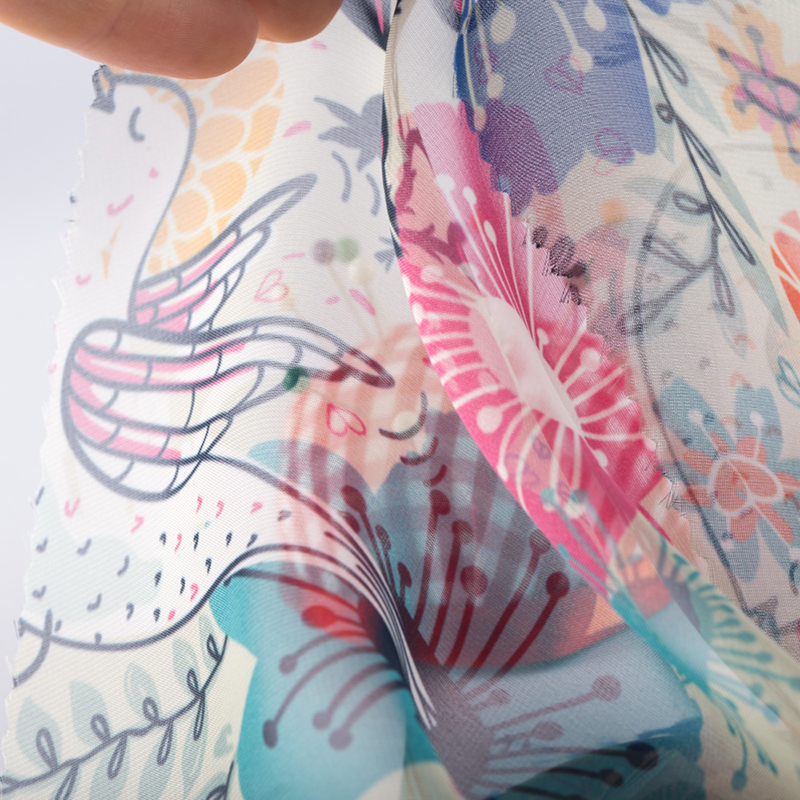 Paris Chiffon
Chiffon is a beauty of a fabric, which is available in several different versions. It can be constructed from silk, cotton, rayon or synthetic fibres. It is a very fine and lightweight fabric, which gives a beautiful drape, making it an ideal choice for red carpet gowns. Some other unique chiffon characteristics include:
A plain weave
Made from loose and tightly twisted yarns
Soft and supple
Drapes and gathers well
Fine and transparent
Generally taut
Silk chiffon fabric is a popular choice for elegant and formal evening wear. Chiffon gets its unique handle from the twisted yarns in its construction. It is a mostly sheer fabric, which needs some practice to work with, thanks to its fine and thin nature. Nevertheless, it is worth it! Dresses made from chiffon look and feel so special and feminine; perfect for standing out at your next do!
Our choice – Paris Chiffon
Paris Chiffon is a soft and silky fabric, which is fine and light. Air passes through easily, making it ideal for formal summer dresses. This chiffon flows beautifully over the body and is slightly less see through than other traditionally transparent fabrics. Create a dress with a flowing skirt, to show off the pure beauty of this fabric.
3. Georgette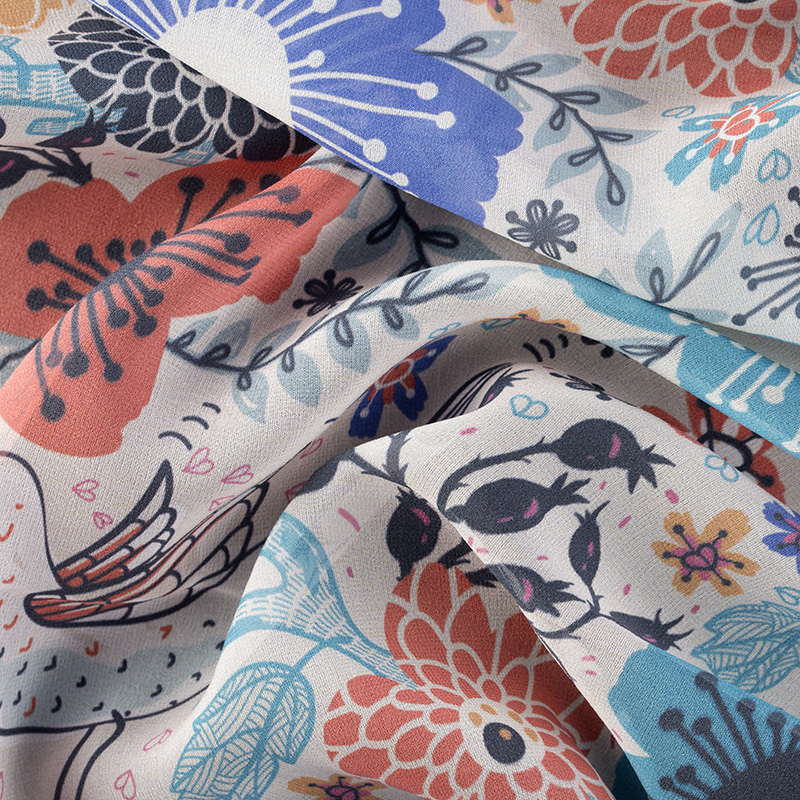 Silk Georgette
This lovely fabric is traditionally made with silk, but, it can also be made from synthetic yarns, such as polyester. It is a distinctive fabric, which has characteristics unique to itself, some of these include:
A crinkly, crepe like texture
Feels slightly rough and dry
A bouncy, flowing drape
Constructed from highly twisted yarns
Has a tight weave
Strong and holds up well to wear
Georgette is always a popular choice when it comes to making gowns and evening dresses. It holds up well to embroidery and applications, such as beads and sequins, although these should be kept light and to a minimum, so they don't pull the fabric out of shape. Thanks to its springy nature, you can have a lot of fun creating flowing, feminine dresses.
Our choice – Poly or Silk Georgette
You can opt for a stunning Poly Georgette or a 100% Real Silk Georgette at Contrado. The poly combines the sheer beauty of a silk Georgette, with the durability and strong colour reproduction of polyester. It is soft, dry and strong, with the lightweight and sheer qualities of the real silk version. The silk Georgette is airy and delicate, and has a wonderful gossamer appearance, thanks to the very thin threads used in its construction.
4. Crepe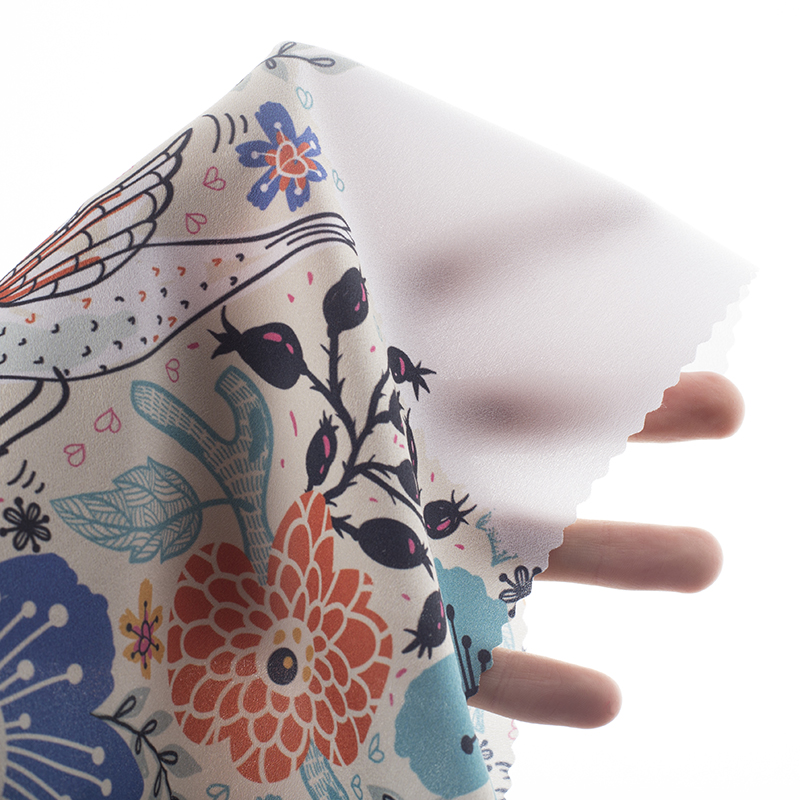 French Crepe Light
This woven, flowing fabric is always a popular choice, when it comes to elegant formal wear. With a tightly-woven construction, made from twisted fibres, crepe has a lot of wonderful properties, which makes it a favourite choice for dressmakers:
A slightly creased/wrinkled appearance
A grainy, textured surface
Lightweight
Matte face
Flexible with a 2-way stretch
A graceful drape
Crepe is known for its crinkled, or pebbled texture. This effect gives the fabric a lot of character, and, combined with its soft handle and stunning drape, crepe is a much loved fabric in the fashion world. Crepe is also easy to shape and work with, so when it comes to making your own dress, crepe is a great fabric to get started with.
Our choice – French Crepe Light
A double knit, custom crepe, which is constructed from highly spun yarns, French Crepe Light will give your dress a breathtaking drape and finish. It has a soft and silky handle, and, despite being quite lightweight, it holds shape well and has body. We love French Crepe for dressmaking, because it has a good 2-way stretch, so it is flattering and forgiving.
5. Satin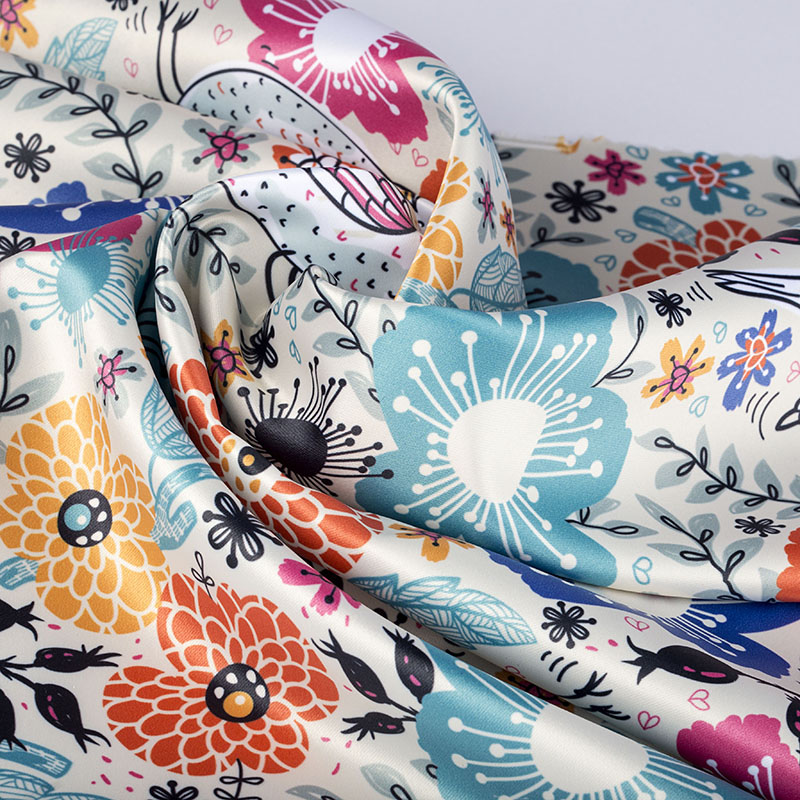 Duchess Satin
Satin is one of the most popular choices when it comes to formal evening wear. And it isn't difficult to see why! This chic and opulent fabric has a wonderfully shiny face, which adds depth, movement and drama. Some other notable characteristics of satin include:
A sleek and glossy face
Woven fabric with a very specific weave
Can be made from silk, cotton, wool, and synthetics
Typically has a dull back
Highly lustrous
Used for fashion, furnishings, bedding and upholstery
Characterised by the specific satin weave – 4 or more fill or weft yearns, floating over a warp yarn or vice versa, 4 warp yarns floating over a single weft yarn – satin is instantly recognisable thanks to its glossy face and matt back. The light reflects, due to the floating yarns, and this lustrous appearance makes it ideal for red carpet worthy gowns. The light will bounce off of the fabric, creating an eye-catching look.
Our choice – Duchess Satin
With the classic shiny face, our beautiful Duchess Satin is our favourite satin for making a red carpet dress. The face is smooth and lustrous, composed of a tightly woven weave, which is attributed to satin. Duchess is soft and smooth, and will slip over your body in subtle, undulating waves.
6. Organza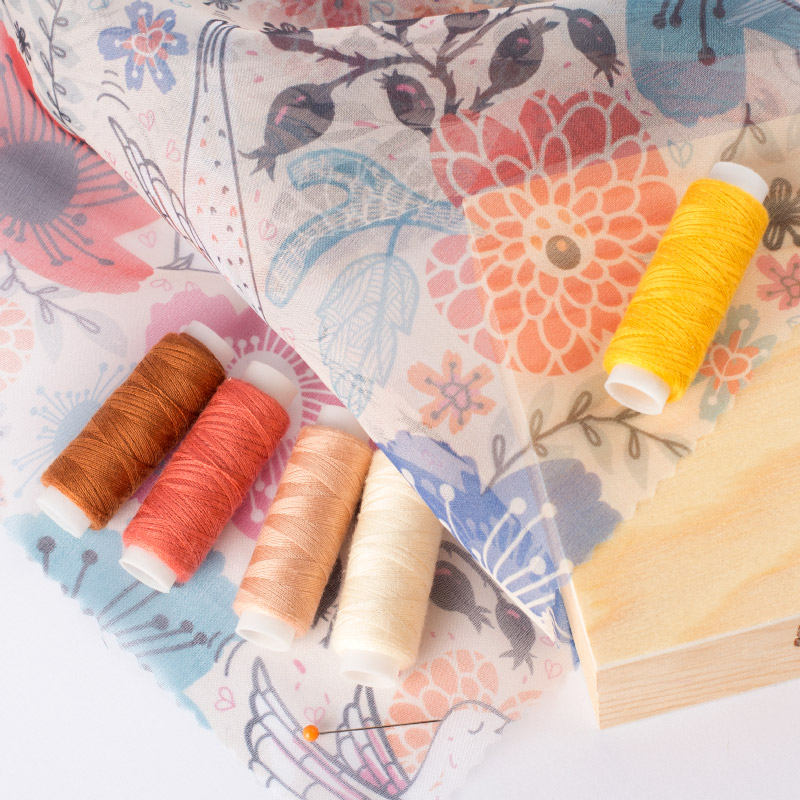 100% Silk Organza
This fine fabric is crisp and lightweight, and ideal for adding that ethereal quality to evening gowns. Made from highly twisted yarns in a loose, plain weave, organza can be made from silk or synthetic fabrics. We love its delicate and dreamy appearance, as well as these other notable organza characteristics:
Crisp and dry handle
A wiry feel
Stiff and transparent
Thin and lightweight
A fine texture
A slight sheen
This distinct fabric can give your dress a real princess quality. It can be layered to create a waterfall of cascading organza, which subtly catches the light and holds its shape well. Organza can be used in all types of dresses, for most silhouettes. It is versatile and mixes well with other fabrics, to create a unique final piece. This romantic fabric can be made to look traditional or contemporary and it remains one of the best fabrics for evening gowns.
Our choice – 100% Silk Organza
This 100% natural silk organza is a dream of a fabric. It is ultra light, weighing just 24gsm, so it floats delicately like a feather. The construction of this organza is almost mesh-like and it is so sheer, that prints will show through on both sides. With its traditional crisp handle, you will hardly feel like you are wearing anything with this stunning natural organza fabric.
7. For something a little different – Neoprene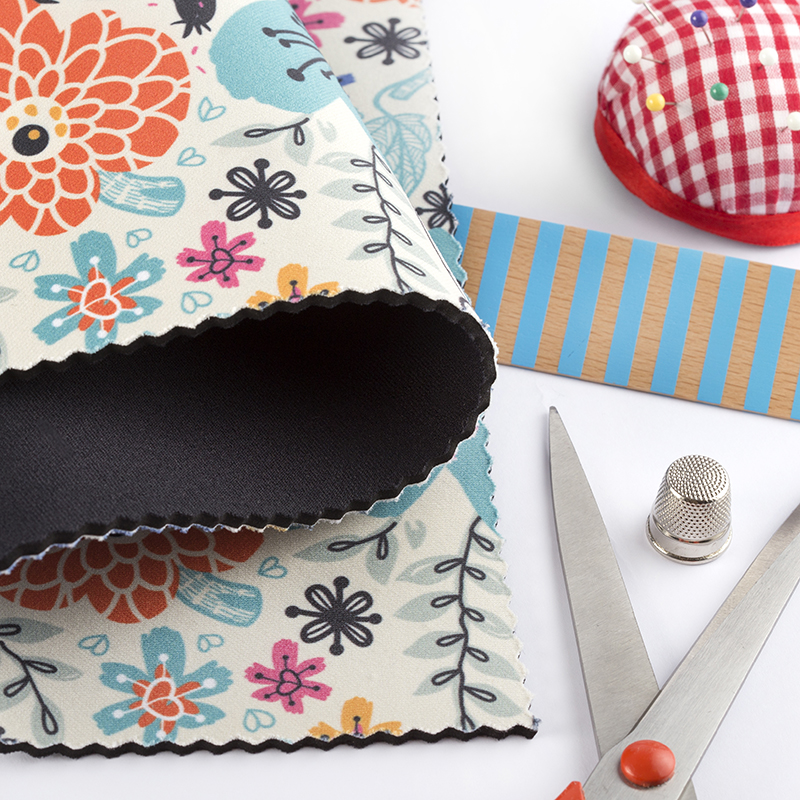 Neoprene
You might be a little thrown here. Neoprene? As an evening gown fabric? It is completely against tradition of the usual suspects, when it comes to formal evening wear, but that is why we love it so much! Neoprene has been becoming increasingly popular in the fashion world, breaking conventions and creating new and exciting apparel. Some of our favourite neoprene properties include:
Soft and flexible
Durable, and wrinkle resistant
UV resistant
Insulating
Smooth and sculptural
Adds shape and moves with the body
Fashion designers are always on the look out for innovative fabrics to work with, and neoprene, also known as scuba fabric, has been growing ever more popular over the last 2 decades. The challenge is to make it look as elegant as traditional fabrics, while championing its contemporary characteristics. From Marc Jacobs to Louis Vuitton, Yamamoto to Miu Miu, and Alexander McQueen to Fendi, designers are accepting this challenge and walking away with stunning results.
Our choice – Neoprene or Scuba
Our Neoprene is solid, flexible and easy to work with. It is relatively thick; 2mm after printing, and is completely black out. The highly spongy nature is easy to manipulate into bold, structural shapes. For something a little thinner, Scuba is a great choice. This is a heavy weight, weft knitted fabric, made with spun yarns. It has a built in 4-way stretch and is thick and spongy, with a soft and flowing feel. The drape hangs well and it retains its original shape, even after being manipulated. Both of these fabrics would make a powerful statement when it comes to making an evening dress, but one, which will definitely turn heads.